Playing with Ease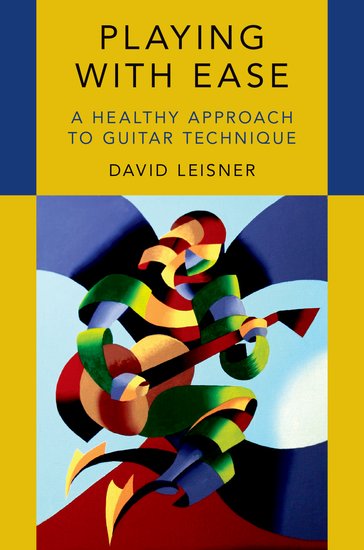 Oxford University Press has published David Leisner's new book, Playing with Ease: a healthy approach to guitar technique.  It is a book about ergonomic technique for the guitar, and is easily applicable to other instruments as well.  In this ground-breaking and perhaps controversial book, Leisner offers an introduction to the basic anatomy of movement, advice on relieving unnecessary tension, pioneering ideas about engaging large muscles, and tips for practicing and concert preparation.  There are 26 accompanying short videos on the OUP dedicated website for the book, as well as 52 photos and 10 illustrations.
About the book, guitar legend Eduardo Fernandez has written:  "Every guitar student should read this book. Leisner has distilled all his experience and insights into a very readable and practical work."
And Grammy Award winner Jason Vieaux has written:  "David Leisner developed body/joint awareness, breathing and meditation exercises, muscle stretching, etc., along with incorporating larger muscle groups into his guitar mechanics and technique, a concept itself antithetical to what was going on in the 1990s when I was in training. But after working with David for one summer, his innovative technique has had a long lasting impact on my playing over the years."
"This is one of the best books on the physiology of guitar playing (and instrumental technique in general) that I have read…One reason I think this is one of the best books on the subject is that Leisner presents specific detailed information on a need-to-know basis. He avoids dogma, and relates scientifically evidence based information when relevant. In this way, the reader can actually apply the information to his/her learning and playing using a pragmatic systematic approach. Additionally, for some topics that can be hard to describe in prose only, Oxford University Press included a companion website with videos of Leisner teaching these concepts. Photos and illustrations within the book also enrich the learning experience…Written in a conversational style, David Leisner's passion and knowledge about his subject are evident throughout the book. This pedagogical work avoids the pitfalls of some books of this nature that read like dry theoretical treatises. Playing With Ease feels more like a series of personalized lessons from a master teacher and performer…If you are a serious amateur or professional musician, I highly recommend reading this book."                           
Scott Sanchez, Goodreads
"Playing with Ease lays out in concise and comprehensive detail an injury-avoiding, injury-healing approach to guitar based both on prior ergonomic research and Leisner's own experience and inquiry…Leisner proffers his most original and consequential thinking on guitar technique in chapter 5, 'How to Play with the Large Muscles'…It posits that guitarists use the entire forearm, fingertip to elbow, as 'one big lever' in striking the strings, engaging muscles high up in the arm rather than smaller ones further down…He supports his descriptions with a large array of illustrations, photos, and best of all, videos available on the Oxford University Press website…Leisner's own example serves as the most compelling evidence that his ideas on the mechanics of playing can save some performance careers from suffering injury-induced decline and reconstitute others that have."
Robert Ferguson, Soundboard
To find out more about the book and order copies, please click here.